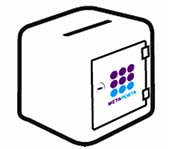 METAPOSTA (www.metaposta.com) is a project included in the "Plan Euskadi en la Sociedad de la Información" (Basque Country Plan within the Information Society), and has a strategic position within this Plan. METAPOSTA aims to develop an "electronic postal safe on the Internet" where documents of personal interest can be stored. The basic principle of the system is the secure and permanent storage of documents that citizens and companies consider highly valuable and wish to store in a personal digital space.
METAPOSTA is therefore a consolidator of the classic postal system, assuming the same role as the letter box but in the digital world. The documents that citizens would receive through this new system are a large number of those they would receive through the physical letter box: bills, bank statements, receipts, policies, contracts, summons, notifications, wage slips, etc.
In addition, METAPOSTA will offer services for loading documents from the user's computer for secure digital storage. METAPOSTA is a project influenced by trends established by numerous "Personal Page" projects that are being developed by several countries.
METAPOSTA aims to be a Project Sponsor for the Information Society and Digital Administration, serving to drive the use of the internet, an extension of the digital signature, digital notifications and secure digital storage by society and the economy as a whole. From a citizen perspective, METAPOSTA aims to become a first step towards a subsequent development of other add-on services within the "My home on the Internet" programme, which includes other aspects such as the availability of a personal webpage on the internet for every single citizen.
METAPOSTA is the fruit of a close collaboration that will give rise to a public-private society with far-reaching institutional support and a coproduction of services aimed at cooperation in the use of digital resources: According to current forecasts, more than 300 public and private clients will be (senders) of documents. From an economic perspective, METAPOSTA is a project that is of interest to the industry and the service sector. It is for this reason that Business Groups are participating in the share capital of METAPOSTA, as they believe that the system could serve as a platform for the development of professional services and specialised sectorial applications. ISEA worked jointly with SPRI on the specification and operational start-up of the METAPOSTA System.